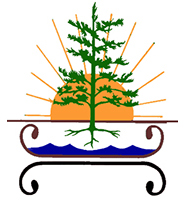 Tribal Logo & Flag Descriptions & Colors
We often get questions about traditional clothing, tribal colors, and ways. There are many sources of information on this subject. Unfortunately, they do not always agree. Some recent reference books are available which bring some of this into better focus. It should be noted that most traditional clothing and ways were subject to the location. Some very clear differences are believed to exist between Eastern, Central, and Western Abenaki. The time period and amount of colonial contact was also a key factor.
In specific to the Cowasuck, we have identified a contemporary symbol and color pattern that we are comfortable with. A Pine Tree in green, comprising thirteen branches, six on each side with a top branch. These branches project in an upward angled direction from the center. The tree has three white roots that are equally spaced in a downward direction. The addition of a rising sun, water, snow, and earth are acceptable as well as "Wabanaki curl" designs.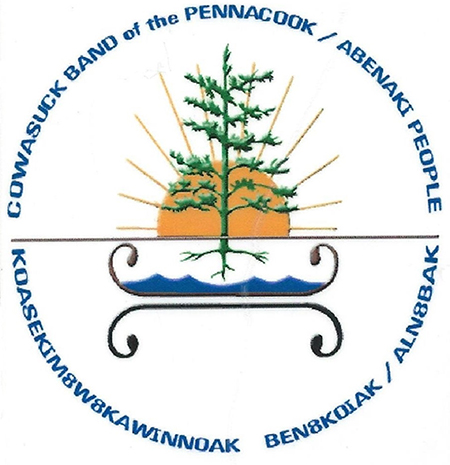 The color scheme is: Green for the White Pines; Yellow, Red, or Orange for the Raising Sun; White for the snows of the north; Blue for the ocean, lakes, and rivers over which the Sun rises; Brown for Mother Earth - the shore lines, and White or Black background is acceptable for all uses.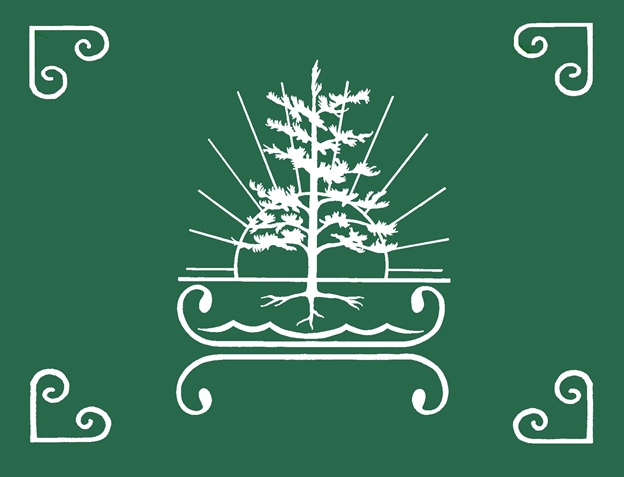 The flag background is dark green to represent the white pines of the forest. The images are in white or in the Abenaki language W8bi which is the root word for the Wabanaki - the "People of the Dawnland."
The central image is a White Pine tree which is a direct reference to the Cowasuck Band - "The People of the White Pines." The Pine Tree has 3 roots which symbolize the 3 major watersheds of - the Connecticut, Merrimack, and Piscataqua rivers. The background image is the "Rising Sun" which is another reference to the Wabanaki Confederation. The Sun has 13 rays that symbolizes the Indigenous year cycle of 13 Moons.
The horizontal line represents the land between the sky and the waters. The waters are shown as the waving line. The two "Curls" represent "Canoes" that we used on our journeys in life. One reflects the other and, in this combination, it becomes a "Wisdom Curl" or reference to the "Keepers of Knowledge."
The four corner designs are modified Wisdom Curls that represent family units - families living in harmony, peace, and in balance throughout N'dakinna - "Our Homelands."