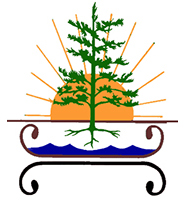 Memorial Ceremonies
Note: All traditional ceremonies that are described reflect our contemporary practices of today. Through history most of our ceremonies were not documented - now they are a combination of "oral history" and "pieces" of family histories.
Over the time of several generations our culture and customs have changed as a result of many social and ethnic pressures. As our elders have said "there are no right or wrong ceremonies - always do what your heart tells you to do."
Do them in a good and sincere way and all of our relations of the past will understand - be thankful to your ancestors that you remember them in your blood.
BURIAL
When a death occurred in the village everything became very quiet as the people were notified. If festivities were going on they were peremptorily checked.
The deceased was dressed in their best clothes, and ornaments were placed upon them. If the deceased were a man, a bow and some arrows, in later days a gun, were placed with him, and as tradition asserts, in early times also a stone gouge or the like.
Two burial ground types were described in our history. In one the body was wrapped in a roll of birch bark, buskani'gan, and buried two to several feet deep in the burying-ground, buskani'gamik, "grave habitation."
In the other, the Abenaki cemetery was referred to as a forest of coffins, such as old scaffold burials, Boskeniganiko, or as the skeleton land, Jibayki. The coffin, a burying thing was called Boskenigan and large piece or thing of birch bark was called Maskwaigizitgan.
Near each village a place was located where the dead were buried, preferably a sandy place where excavation was easy. High commanding hills or bluffs near the river were liked on account of their solemn dignity.
A curious tradition is recorded about the cemetery at Indian Island in Maine. We would not enlarge the overcrowded graveyard, for it was thought that we would die to fill it up again if we did so. If people died away from home, or in the distant hunting grounds, every effort was made to bring the remains home for interment near the village.
A short time before the body was buried, however, a mourning or funeral ceremony was performed. The relatives and their friends gathered at the lodge and demonstrated their grief. Some elderly men standing near the corpse chanted the following dirge for a while, the assemblage joining in.
Some say that it was the office of the head chief or Kchi Sag8mo to sing this song shortly after the death of a villager, and to do so again when the body in its bark wrapping was interred. The song is said to be a prayer to the soul. "Now our aged man is going to sing a 'dead song,' me'tcinayintowa'gan," was the introduction phrase.
YA NI GO WE YA NI GO WE YA NI GO WE
MOURNING
If the deceased person left a spouse, a company of old women, consisting mostly of relatives of the departed, visited the widow or widower and placed the mourning upon them. This consists in modern times, the customs still being practiced, of a suit or dress of black. It is presumed to have been formerly paint or perhaps ashes. This mourning was imposed upon the bereaved for a year or, if advisable, perhaps half a year.
During this time a strict watch was kept on the mourner's conduct, because it was tabooed for them to indulge in any of the following acts: sexual intercourse, joyful festivities of any kind, the use of liquor, and incidentally anything which would be irreverent to the memory of the deceased. From what we gather, in the nature of popular opinion, the mourner was under a ban, hedged about the criticism and appearance of conventional behavior for the specified time. Should a lapse of conduct reach the ears of the old women, they took off the mourning and left the mourner in profound disgrace. Popular sentiment was strong enough to provide sufficient punishment for the offense, the disgrace being considered ample.
When, however, the set time had passed, the same old women visited the widow or widower and removed the black grab. That evening a dance rite was held in which the participants, including the mourner, were daubed with red paint on the forehead by an old woman, the occasion being the signal for abandoning grief. The dances were of the ordinary round type though the first song was a special one. When this dance was over, the mourner was free, and could marry again or associate without restraint amongst friends. The rite was called gatsiwe'ndimak, "mourning removed."
The burden is HE YA WE YA HE + HE NI YA WE YA HE + HE YA WE HO YA HE + GA HYO NO + YA HE + SKINOSIS'TUK ("boys") YA HE NE NO YA HE + etc.
CEREMONIES CUSTOMARY AT THE DEATH OF A CHIEF
According to the wampum records of the Passamaquoddy, when the chief of the tribe died, his flag pole was cut down and burnt, and his tools of war - bows and arrows, tomahawk and flag were buried with him.
His group mourned for him one year, after which the Pwutwusitimwuk or leading men were summoned by the tribe to elect a new chief. The members of one tribe alone could not elect their own chief; according to the common laws of the allied nations, he had to be chosen by a general wigwam.
ACCEPTABLE REPATRIATION PRACTICES AND CEREMONIES
Without the specific knowledge of the exact location, time period, and origin of the remains any repatriation effort to duplicate an appropriately correct burial ceremony of the past is at best a matter of guess work. It should be noted that whatever is done be performed with respect and honor to the ancestors.
Based on actual Algonquin based repatriation ceremonies that have been observed it is believed that there are many similar and common practices that can be drawn from our previous discussion on the subject.
The remains and funerary objects should be placed in a container, bundle, or roll of white birch bark. In the past, large sections of bark (canoe length and width) would be readily available and the task of fabricating a man-sized roll was relatively easy. Depending on the amount of skeletal remains and the availability of bark this may be difficult to accomplish.
A second possible option is to fabricate a container of cedar. The wood should be split to workable thicknesses (without sawing), preferably unfinished with bark on. If a large amount of skeletal remains are intact, a cedar coffin may be more practical.
If possible, no nails or other fasteners should be used other than leather, hand-made cordage, or sinew (not artificial type made of nylon).
The burial hole should be dug by hand or with (old) stone tools. Some notations have been expressed that shell tools, such as clam shells, were not appropriate. If you are attempting to bury a coffin sized container you may need to use shovels and other tools. Remember, if our ancestors had these tools they probably would us them instead of their hands.
The burial site should be selected very carefully for many reasons. It should be protected from any further potential of being re-excavated in the future. Rocky areas are difficult to work in and areas of possible flooding are unacceptable. A highland overlooking a lake or stream is good if the soil is suitable. An area with a heavy growth of trees may be difficult to dig because of surface roots.
The orientation of the hole and the remains should be positioned in the same direction as found, if known. Many remains have been found in shallow graves that are placed in a southerly / northerly line with the remains in a "fetal" or "extreme-flex" position, on the right side and facing westerly. This orientation is suggested if further information is not available.
Note: Many will argue that a holy or spiritual person must perform the ceremony. This may not be absolutely correct, an elder, an family member, pipe carrier, or other person with the right mind and heart on such matters can always perform the ceremonies. There is no right or wrong way to do any of this - stay focused, be humble, and be respectful - the ancestors will help and guide you.
Once the site is chosen, a pipe ceremony and prayers should be offered to the ancestors to seek their guidance and approval of the site. A lot can be determined if you do not feel right about the site or the way you are going about this matter.
If you feel you are on the right path, make a tobacco offering to Mother Earth around the site. If a water drum or drum is available have the singer or singers sing a gathering song to call the ancestors to the site.
Ask the ancestors to accept the remains of our ancestor back into the womb of Mother Earth to complete the circle of life's journey. Pick the exact spot and start digging, carefully place the top soil and material to one side. The hole should be made slightly larger than the container but not too big. The depth to the hole should be such that the top of the container will have about two to three feet of cover when it is back-filled.
When the hole is completed make sure that it is stable and unlikely to cave-in. The person that excavated the hole should make a tobacco offering into and around the hole.
Note: Smudging with burning sweet grass, cedar, mushroom, sweet fern, and tobacco can also be done during the ceremony. Wabanki preferences are with sweet grass and tobacco.
The container with the remains is then placed in the hole. A tobacco offering is made again placing tobacco over the container. Other people in attendance can at this time also make an offering and prayer as they approach the remains. If gifts are to be placed with the container, care should be made to place them around the container and not on top such that the depth of burial would be diminished.
If the singer or singers are available, sing a song for the ancestors that have passed-on. Pipe and prayer ceremonies are performed at each step of the process.
When all that wish to make prayers and offerings are completed the process of burial will begin. As in the beginning the person that placed the remains in the hole will place the first hand-full of soil back in the hole. Each person that was in attendance can now follow the same process until all are finished. The first person will return and finish the burial until all of the soil is returned. The surface should be left slightly raised so that any settlement that might occur will be compensated for. The top soil should be carefully replaced as well. As a final step forest leaf matter should be carefully dispersed over the site to conceal the burial hole location. Any excess soil should be dispersed in the area.
A final prayer and song is given to thank the ancestors for welcoming back the lost relation.
The following prayers and songs may be used for the ceremony:
DEATH PRAYER
KCHI NEWAISK NANAWALMINAY HAY DA NE NAY MAMA GE E E A WAJE GO DA NAY MOEL SEC PA NE MA DU GEAY DAWAY
Great spirit watch over me and when I am old and weak give me guidance as I leave the earth.
DEATH SONG (TOM-TOM & STRAIGHT BEAT)
YA...WI A NAY YA...WI A NAY YA... WI A NAY YA... WI A NAY
YA... WI A NAY YA WI A NAY YA... WI A NAY YA... WI A NAY
YA WE A NAY A YA YA WE A NAY YA WE A NAY A YA YA WE A NAY
YA WE A NAY A YA YA WE A NAY YA WE A NAY A YA YA WE A NAY
THANKS TO OUR RELATIONS
PA E OB... E YO DA LE
WU ZE..... WED ZO KA NI OW NA
O LEE...... DO GO WON GON
WU ZE.... WED ZO KA NI OW NA
(HONOR BEATS)
PAZ A GWE DA A A
OLIWNI WU ZE KCHI NAWASK
They came here and gave help to us we thank all of our relations for their help but first we must thank the Great Spirit.
CONTEMPORARY CEREMONIES FOR ALGONQUIN PEOPLE
I. The remains are received from the place of death.
A. Embalming performed, if or as requested.
B. Remains are prepared for viewing.

1. Body is clothed in Native dress "regalia" or other suitable clothes. Deceased preference should prevail if a passing request was made.
2. Body wrapped in blankets from neck to feet.
3. Head only is exposed.

C. Remains placed on bier or standard.

1. Bier - hand made of pine or cedar.
2. Bier - design similar to that of a ladder.

D. Coffin or Cedar/Pine Box are acceptable. Ancient burials used a large roll of birch bark to enclose the remains.
or-
A. Body is cremated and ashes are placed in a suitable container.
1. Earthenware, stoneware, or pottery is preferred, copper or silver could be used, anything gold or other metal, plastic, etc. would not be traditional.
2. The container with the ashes are in view with picture or other items of remembrance of the deceased.
3. Cedar and or pine boughs can be placed around the container.
II. Layout
A. Bier or standard - covered with blankets, then boughs of cedar or pine placed upon the blankets.
B. Body placed on the left side facing the congregation, feet facing the West, "the looking place."
C. Boughs of cedar and or pine surround the remains.
D. Ordinarily, no flowers will be used.
E. Gifts for the deceased in the after-life can be placed in a basket that is placed near the remains. Gifts of sweet grass, tobacco, a pipe, bows/arrows, knife, axe, bowls, eating utensils, women's awl, sewing items, smudge pot, medicine bags, dry corn/beans, or any other item that could be used on the other side is appropriate. These items would be buried with the deceased.
or- As outlined with cremated remains.
III. Chapel Service
A. Holy Man-Woman - Medicine Man-Woman - Sag8mo.
1. Prayers. a. Great Spirit / Creator / God. b. Cardinal Directions and Elements - Pipe or Smudge is used. c. Prayers for the spirit of the deceased, family and friends.
B. Family and Friends.
1. Prayers.
2. Remembrance Words.
C. Drum (If in attendance).
1. The drum and singers are smudged and blessed.
2. Sings a gathering song at start of service to welcome ancestors to join ceremony.
3. Sings an honor song prior to and following prayers.
4. One drums continuously, steady muffled heart- beat cadence.
IV. Removal to Place of Burial or Return of Ashes to Mother Earth
A. Bier carrying the deceased will be carried to and placed within hearse by chosen family and friends.
B. Cortege will embark to grave site.
or- Ashes can be kept with the family or returned to Mother Earth as desired by the deceased or family. Placing the ashes upon the waters of a river or ocean carry them to all places on Earth. Placing them on Mother Earth can return them to a favorite place such as a beach, mountain or hill top, woodland area, or meadow. Distributing them into the air carries them with the winds to all places on Mother Earth.
V. Grave Site (Local regulations or codes may prevail)
A. Preparation of liner.
1. Fill almost half way with surrounding earth.
2. Cedar or pine boughs may surround opening.
B. Lowering device.
1. Will be used as standard.
C. Removal from Hearse.
1. Individuals placing the deceased within the hearse will now remove and carry same to grave site.
2. Deceased and bier shall be placed upon lowering device, if used. Cedar or pine boughs arranged around bier to create a connection to Mother Earth.
D. Holy Man-Woman - Medicine Man-Woman - Sag8mo.
1. Will offer prayers much in the same manner as those at the Chapel with the inclusion of parting remarks.
2. Sacred Pipe and or Smudge may be used here if desired.
3. A Tobacco offering will be made into the Earth, and then all others will do the same if desired.
E. Drum.
1. The drum and singers are smudged and blessed.
2. Sings gathering song to start grave side service and at the culmination of the memorial
service will sing one last honoring song.
F. Lowering of the Deceased.
1. Deceased will be lowered into burial liner by family or friends acting as bearers.
2. Personal items may be placed with the deceased as described previously.
3. A Tobacco offering is made on the deceased and will be covered with remaining earth.
4. Liner lid will be put in place by cemetery personnel, preferable after the family departs.
SPIRITUAL WORDS
Die there Dalina
He/she is dying Gadona
He/she dies Macina
One dies Macinamek
It ends, he/she dies Macihla
Many die Msalimacinak
Death Macinaw8gan
It grieves someone W8wzigaldam
Being gone forever Askaosaw8gan
Travel Lakanni
Travel back Bedegakanni
Old people, ancestors Neg8nzosak
The ones who were
before us, the ancestors Nik8nk8goagik
Bury someone Agwankaha
Earth Ki / Aki
Above land Spemki
Sky Asokw
Christian, praying person B8batamwinno
Great Spirit Kchi Niwaskw
God, the lord Tabaldak
The one who come to us Nawawas
Jesus Sazos
Blessed Soul Wli Mjejakw
All My Relations N'dalgommek
(Grand)Mother Earth Nokmes Ki
(Grandfather) Sky Mahom Asokw
Tobacco Wdam